Meal Prep Monday
Two weeks ago, I started down a new path in my journey to being stronger and healthier. One that will allow me the freedom to roam well into my golden (olden) years. I'm taking my nutrition seriously for the first time in my entire life. At 34, I have spent entirely too many years eating like I am still in my 20's.
*If you happen to have eaten well in your 20's, congratulations! I didn't. I ate like crap. As in pizza, beer, cheese sticks (mmmm, cheese sticks), buffalo chicken wings, lots of ramen, plenty more beer...you get the picture.
I started running about a year ago and feel deeply, madly in love. For someone who could barely jog for 30 seconds at a time, I was in way over my head. Like anything else, I kept going. I learned from my mistakes (and there were PLENTY of those) and have a much healthier love affair with running these days. I know that fueling my body is just as important as actual training.
That's where this journey beings.
I found my way into doing the 21 Day Fix. For those of you who haven't heard of it, it's a 21 day program that centers on eating correctly and working out 30 minutes a day. No counting calories, just filling up the correct number of rainbow colored containers each day. Lots of veggies. I liked vegetables, I enjoy healthy eating. I like being active. I wanted to eat even better, dial up my fitness. I figured it would be a breeze.
Yeah. Um, no. See, Autumn Calabrese is NO JOKE! As a single mom and bikini competitor, she gets the most out of those 30 minute work outs. Of course, that's a topic for another day...
Long story short, I got on board and got with the program. Week One was hard. I wasn't use to prepping my meals and I struggled to get all of my containers in, but as I start Week Three, I am pumped. There are so many really yummy options out there. I spent about 2 hours on Sunday getting all of our lunches made (my husband is doing it with me) and prepping for our dinners. That way, we have everything ready to go!
My husband grilled up a bag of Tyson Natural's Chicken Tenders (we love Perdue, but they were all out, so I'm on a Tyson kick this week).
I cut up some red bell peppers and cucumbers.
Then diced up half of the chicken for our Mason Jar Salads.
I also drained/rinsed 2 cans of organic black beans, mixed up a batch of 21 Day Fix Balsamic Dressing, and grabbed my Spring Mix. We buy pre-washed and ready to eat, but that's just our preference. It makes prepping SO much easier! Total calories: 260, 31 g protein, 10 g fiber.
I use quart size mason jars. Assembly is a breeze - I used 2 TBSP dressing (1 orange container, for those on the fix), followed by 1/2 cup black beans (1 yellow), then 1/2 cup red bell peppers & 1 1/2 cup (2 green) of the spring mix. Then I just seal them up and we have a great lunch for the week. These stay fresh in the fridge all week, making them a great grab-and-go lunch. Just pair with a delicious apple and you have a balanced meal, full of protein and carbs to help power you through the day. I could seriously eat these every day. My husband, on the other hand, prefers a little variety.
We made this Shrimp with Couscous for a little lunch time variety. It was super simple! I just diced up some cucumber and red peppers (he like onions, so I skipped the peppers and make his with yellow onion).
Simply cook up a batch of Couscous (1 cup Couscous to 1.5 cups water), then separate into 4 containers. The mix on the left is mine: red peppers, diced cucumber, minced garlic, salt and pepper. The one on the right just has onions subbed for the peppers. Sautee 8 oz of shrimp until pink. Remove and toss in ice water to stop from cooking.
Simply add shrimp to the vegetable mix and stir. Then split the mix between the four bowls. This can be eaten warm or cold, depending on your preference. For 261 calories & 19g protein, this is a great lunch time meal. Pair it with a side salad or your choice of fruit.
I LOVE my Chocolate Shakeology also - I usually have it after my workout, but it makes for a really yummy breakfast shake too! (Hubby enjoys his with half a banana, 2 tsp of peanut butter and some ice - 1 red, 1 purple, 2 tsp for those that are counting)
We also like to make our own quick cooking oatmeal - it's super simple, tastes great, and saves a ton of money on the pre-packaged items. Not to mention you know exactly what goes into this one. My go-to breakfast is oatmeal with fruit. I went with banana today, but blueberries, blackberries, and peaches are also a great addition to this simple breakfast. (1 yellow, 1 purple)
My husband eats the oatmeal, but also enjoys Bacon, Egg, & Cheese on an English Muffin (1 yellow - whole wheat English muffin, 1 1/2 red - 1 scrambled egg + 2 strips turkey bacon, 1 blue - Swiss cheese). I usually make a batch of these on Sunday (5-7 of them), wrap them in foil and place them in the freezer. He grabs one and heats it up in a toaster oven at work - he loves these, and they fit with our meal plan. It's win-win.
Our snacks include 2 boiled eggs (1 red) and 2 Halos tangerines (1 purple) - I usually like to have an apple with peanut butter too (2 tsp) sometimes. Today, I was feeling like halos.
Dinner tonight is buffalo chicken tenders (did I mention I LOVE wings?!), blue cheese dip and celery. Mmmm, I'm getting hungry thinking about it.
Recipes for the Shrimp with Couscous and the Buffalo Chicken Tenders are below, but if you have any questions, don't hesitate to ask! :) I love being able to help other people navigate healthy changes and LOVE the way eating better makes me feel!
My favorite part of this plan is it allows me to continue my runs. I don't feel worn out or run down. I'm fueling my body and my body is responding so positively! Other work out programs in the past left me too tired, but with the 21 Day Fix, I'm actually able to knock out my "Fix" workouts in the morning and put a good run in at lunch or when I get back home from work. I LOVE IT! The strength training portions of the workouts are great as well - strong legs & core will only help my training!
-------------------------------------------------------------------------------------------------------------
Shrimp With Couscous
Total Time:
14 min.
Prep Time:
10 min.
Cooking Time:
4 min.
Yield:
4 servings
Ingredients:
1 cup dry whole wheat couscous
8 oz. raw medium shrimp, peeled, deveined
4 medium tomatoes, finely chopped
1 medium cucumber, finely chopped
1 medium yellow bell pepper, finely chopped
12 sprigs fresh cilantro sprigs, chopped
½ tsp. ground coriander
Sea salt and ground black pepper (to taste; optional)
Preparation:
1. Prepare couscous according to package directions. Set aside.
2. Place shrimp in a large saucepan. Cover with hot water; cook, over medium-high heat for 3 to 4 minutes, or until shrimp is opaque and firm. Drain and chill shrimp in ice water. Set aside.
3. Combine tomatoes, cucumber, bell pepper, cilantro, and coriander in a medium bowl; mix well.
4. Add shrimp; toss gently to blend. Season with salt and pepper if desired.
5. Place couscous evenly on four plates and top with shrimp mixture.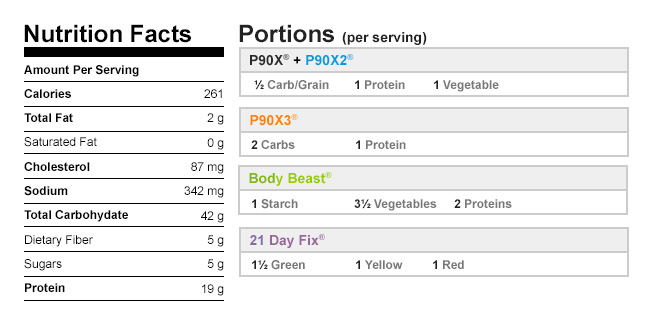 -----------------------------------------------------------------------------------------------------------------------
Buffalo Chicken Tenders
These tangy, spicy chicken tenders dipped in creamy blue cheese sauce are delicious enough to make you forget they're only 158 calories per serving.
Total Time: 50 min.
Prep Time: 5 min.
Cooking Time: 15 min.
Yield: 4 servings
Ingredients:
4 Tbsp. hot pepper sauce (like Frank's®), divided use
2 Tbsp. white vinegar
1 tsp. garlic powder
1 tsp. paprika
1 dash cayenne pepper (to taste; optional)
1 lb. raw chicken tenders
¼ cup nonfat plain yogurt
1 Tbsp. crumbled blue cheese
4 medium celery stalks, cut into sticks
Preparation:
1. Combine 1 Tbsp. hot sauce, vinegar, garlic powder, paprika, and cayenne in a small bowl; mix well.
2. Add chicken; toss to coat. Marinate, covered, in refrigerator for 30 minutes.
3. Preheat oven to 375° F.
4. Place chicken in a baking dish. Discard any remaining marinade. Bake for 12 to 15 minutes, or until chicken is no longer pink in the middle.
5. Combine yogurt and cheese in a small bowl; mix well. Set aside.
6. Combine chicken and remaining 3 Tbsp. hot sauce in a large bowl; toss gently to blend.
7. Serve chicken with dip and celery.